Posts Tagged 'Completion'
February 27, 2011 @ 5:00 am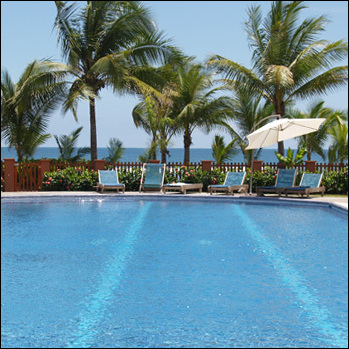 Woodland Hills, CA (PRWEB) June 28, 2007
Accommodation standards in Costa Rica are on the rise. Once an undiscovered paradise adored almost exclusively by budget travelers and backpacking surfers willing to "rough it" in humble seaside cabinas, Costa Rica is drawing considerable international acclaim as it gains popularity among well-heeled luxury lovers in search of outdoor adventure, profound natural beauty and unforgettable family vacations. A tourism boom has resulted, and Costa Rica is quickly becoming a haven for upscale hoteliers and developers like DayStar Properties.
The largest beachfront developer in Jaco Beach on the central Pacific coast, DayStar Properties leads the way for a new trend in high-end accommodation with the recent completion of Bahia Azul (www.bahia-azul.com), an intimate ocean front community of 30 two-bedroom luxury condo rentals.
Blending the first-class services of a boutique hotel with the added convenience and comfort of exclusive private residences, Bahia Azul employs the condo hotel concept, which is a relatively new phenomenon in Costa Rica. As the local hospitality industry continues to evolve, lodging venues like Bahia Azul are becoming increasingly popular with families and groups of friends traveling together who want more than just a room.
"Why book a room, when you can rent an entire condo on the beach for about the same price? Most travelers to Costa Rica, whether they are surfers, sport fisherman, bird watchers or families with small children, prefer the added space and convenience." said Gretchen Gary, marketing manager with DayStar Properties. "And with all the hospitality services of a hotel, including concierge, housekeeping, staffed security and onsite management, Bahia Azul offers much more than your standard Costa Rica vacation rental."
Among the first examples of a fully functioning condo hotel in Jaco Beach, Bahia Azul sets the trend for many similarly designed projects in the area, some planned by industry giants like Ramada, St. Regis and the ever-expanding Los Suenos Marriott.
It's no secret that there is a nationwide renaissance affecting tourism in Costa Rica. In particular, places like Jaco Beach, which was recently nominated as Central & Latin America's Leading Beach by the World Travel Awards 2007, are expected to join the ranks of the world's hottest international destinations.
About DayStar Properties:

DayStar Properties (www.daystar-properties.com) manages Bahia Azul as well as two near-to-complete luxury condominium communities – La Paloma Blanca and Bahia Encantada – in Jaco Beach, Costa Rica. Beyond its property management division, the company is one of the largest condo developers on the central Pacific coast with seven existing projects on the Jaco beachfront.
To learn more, go to www.bahia-azul.com or contact the DayStar sales and marketing office toll-free from the United States at 877-552-6825 or within Costa Rica at 506-643-2082. For reservation inquiries, call 800-784-4173 (US) or 506-643-1290 (Costa Rica). You can also visit our website at www.daystar-properties.com for project information and construction updates.
###
Hoboken, NJ (PRWEB) May 23, 2007
Kubera Venture Capital Group, LLC, a privately held real estate investment and development firm, today announced the completion of a model home for its gated residential community, Jade Azul, in Nosara, Costa Rica.
The model home is a 1500 square foot, 2-bedroom, 2-bath single-family villa. The one-story model villa features luxurious amenities, such as expansive floor-to-ceiling windows, vaulted woven palm mat and hardwood ceilings, handmade cabinetry from local woods, teak and ceramic tile terraces, sunken bathtubs with Jacuzzis, and a plunge pool. The villa is also furnished with handmade, artisan furniture specially designed for the community. Photos of this stunning home can be seen on the community's website, www.jadeazul.com.
Nestled in the Nosara jungle, Jade Azul is a Balinese-inspired residential community that will offer a mix of single-family villas, ocean-view condominiums, and commercial amenities. Construction is currently ongoing, with the first phase of 10 villas nearly completed. Pre-construction sales for additional villas and condominiums are underway for delivery in early- to mid-2008. Pre-construction pricing for the jungle- and mountain-view villas ranges from $ 180,000-$ 225,000 for 1-story villas and $ 195,000-$ 240,000 for 2-story villas, with actual prices dependent upon lot sizes. For those interested in building and customizing their own Balinese-style retreat, individual lots are available starting at $ 50,000. Pre-construction pricing for 180-degree ocean view condominiums starts in the mid-$ 200s.
Jade Azul will be built with the intent of preserving the natural habitat; approximately 50% of the 28-acre property will be reserved as "green space," with low-impact walking and hiking trails for residents to enjoy the tropical wildlife and environment. In addition, the properties can be purchased with basic or upgraded furnishing and accessory packages, and as the build-out continues and residents begin to move into their new homes, a broad range of amenities are being added and planned, including outdoor spas and meditation areas, high-speed internet access, shuttles to local beaches, maid service, pool cleaning, and local bill paying services. Mr. Michael Derby, Partner of Kubera Venture Capital Group, stated, "We are quite excited to announce the opening of our model home, which will showcase the attention to detail, craftsmanship, and design aesthetics that make Jade Azul a superior value in vacation destinations. We invite anyone who is interested in making a home for themselves in Costa Rica to come visit us to experience the hospitality of Nosara, the beauty of Jade Azul and the serenity of the jungle setting. I can promise you that it will capture the imagination and nurture the soul."
About Nosara

Nosara is a small Pacific coastal town located in the Guanacaste province in Northwestern Costa Rica. The town is famed for its world-class surfing and sport fishing, and offers a myriad of other eco-tourism related activities. It boasts a large American population, dubbed the "Proyecto Americano," and has long been a home for privacy-seeking celebrities and wealthy Americans. Tucked away in the jungle, Nosara is accessible either by air (a 40-minute flight from the Juan Santamaria International Airport in San Jose, Costa Rica's capital city) or car (a 2-hour drive from the Daniel Oduber International Airport in Liberia).
About Kubera Venture Capital Group:

Kubera Venture Capital Group is a US-based real estate investment firm focused on international residential vacation and second-home development. The principals have a collective 20 years of experience, including turnkey construction, new construction, land development, multifamily renovation, and condo conversions. Over the past ten years, they have completed many successful projects in the United States, Canada, Europe, and Central America.
Company Contact:

Autumn Fletcher-Derby

Kubera Venture Capital Group

www.jadeazul.com

www.kuberavc.com
###
Related Nosara Press Releases